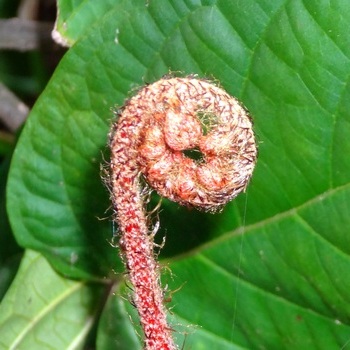 You'll be surprised by some of the funky new friends you'll make . . .
. . . and you'll come across a lot of mountain cherries in bloom . . .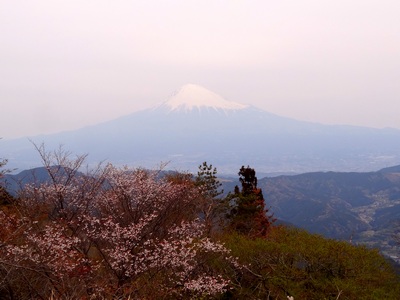 . . . when you climb to the top of Mt. Hamaishi in the middle of April. You might feel mildly disappointed that the clear winter skies have gone hazy, that Mt. Fuji's shimmering white crown is not as shimmery as a few weeks before . . . but the flowers in bloom on the forest floor will more than compensate.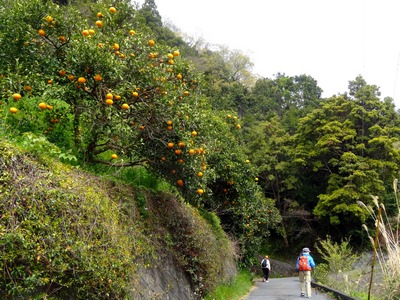 All you've got to do is get together a carload of energetic buddies, figure out which narrow road will get you across the river, which under the expressway, and which over to the parking lot of the Satta Pass (about 3k from Yui Station as the crow flies), and start walking up along the road through the assorted citrus and biwa trees . . . and then straight through the cedar forest.
10k up, and yes, you've got it, 10k down. There's another route, either up or down . . . if you like walking along the road the whole way. From bottom to top, for us hearty hikers, it took a little over three hours, but that was with me stopping seventy-three times to take pictures.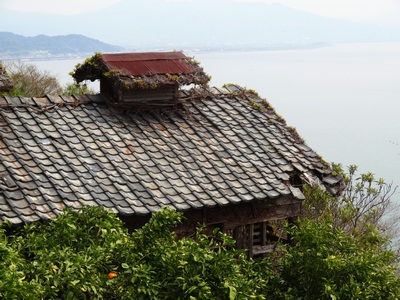 Beneath rotting eaves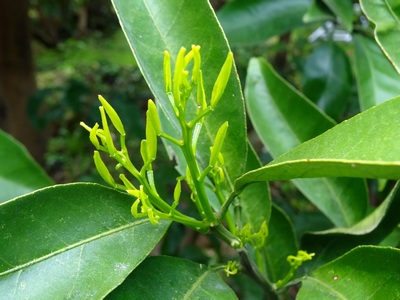 Slivers of young citrus leaves
Quiver in the breeze.
Up, up, up we went . . . and then we came upon these dear fellows. Can you see the curling tip of the black strand on the fellow to the left? You think it's time for a barber?
One of our happy  hikers seemed fairly convinced that these guys were zombie pods (can zombies, I mean, real zombies, actually burst out from pods?), but I think she'd read one too many novel–and  the somewhat steep ascent had left her a bit lightheaded. It was pretty obvious (needless to say) that these cute little black fellows were newborn, elderly forest elves, sprite and humped shouldered all at once. Would a zombie have a single black strand of hair poking up from the top of its bald head. I think not. But I've seen babies like that, and old men, too, so . . . newborn, elderly forest elves it is.
"Come up and in!" they cheered, as clear as day, of course in that welcoming, inviting, cheery voice that is the voice of newborn, elderly forest elves.  "Have a look around. Take your time."
And so we did.
(Okay, okay, the strand does not pop out, not exactly, from the "top" of their heads. But you shouldn't let such an insignificant detail spoil everything for you.)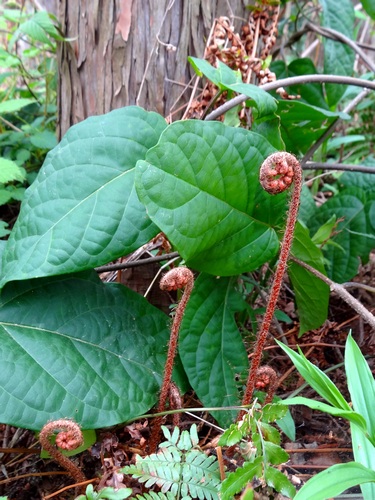 About the time
Fuji hides in the haze
Quarter notes rise from clumps of ferns
And take their places upon the staff.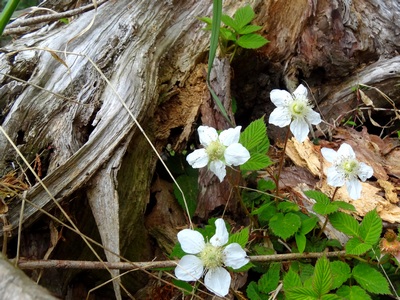 Among greying roots
and silvery cherry limbs
Strawberry flowers find the key.
A hearty hiker holds out her palms
And feels the sound.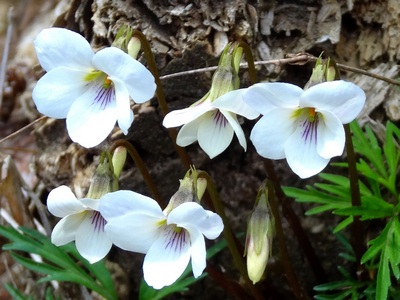 "What about us! We're pretty, too!"
Yes, yes, of course you are.