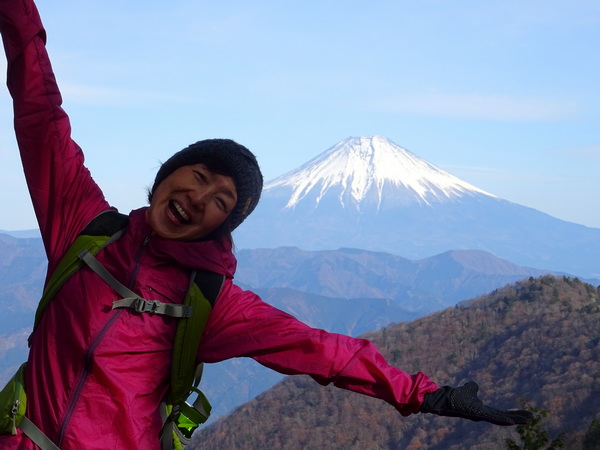 November 26. It was hard to say whether we were chasing Mt. Fuji, and it just happened to be surrounded by a lot of blue—or we were primarily chasing the blue and Mt. Fuji just happened to be smack in the middle of it a lot of the time.
All the Hearty Hikers had been recovering from colds and we weren't sure how much energy we could muster, but the forecast called for nice blue in the morning, and we couldn't bear not heading off into it.
But the blue never faded—so we had to make a longer day of it than we had intended.
Had to.
If you do get a clear blue sky that stays with you, and you're in the more-or-less-leafless season, then this hike is a really good one.
From the parking lot halfway between the town of Umegashima and the Abe Toge (road only open through mid-December), up through . . .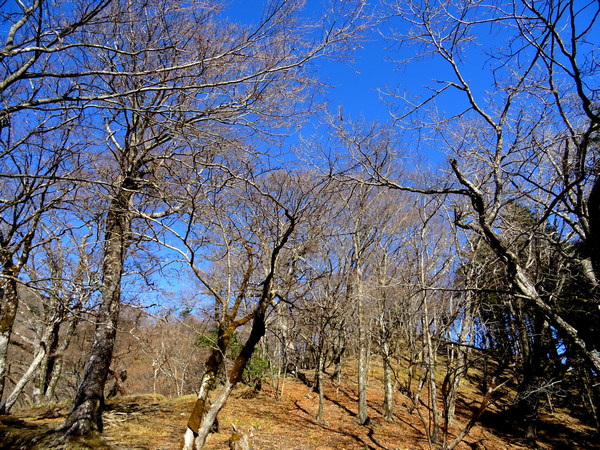 . . .  the blue . . . for about thirty minutes . . .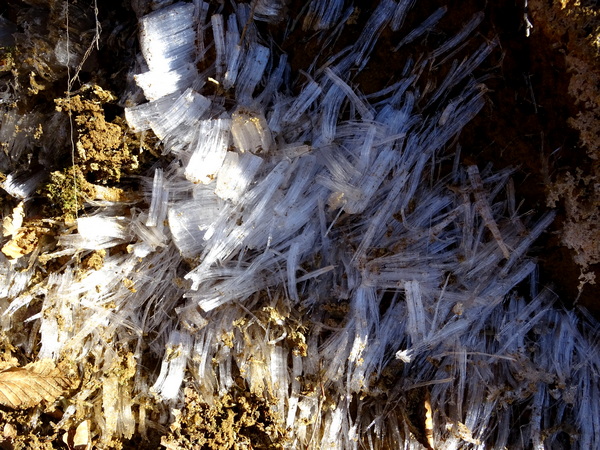 . . . occasionally crunching through the needle ice. . .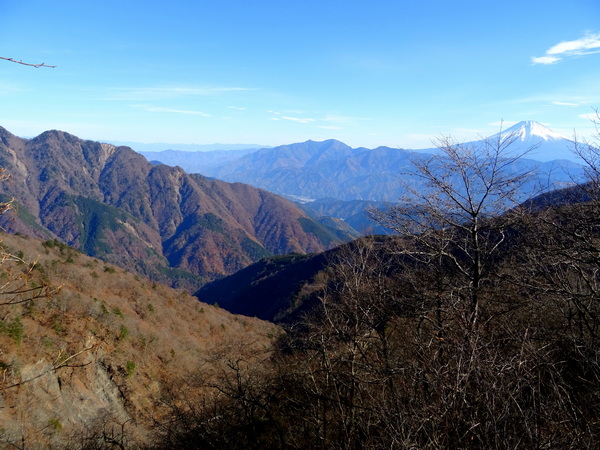 . . . up to Fujimidai ("Spot to See Mt. Fuji") . . .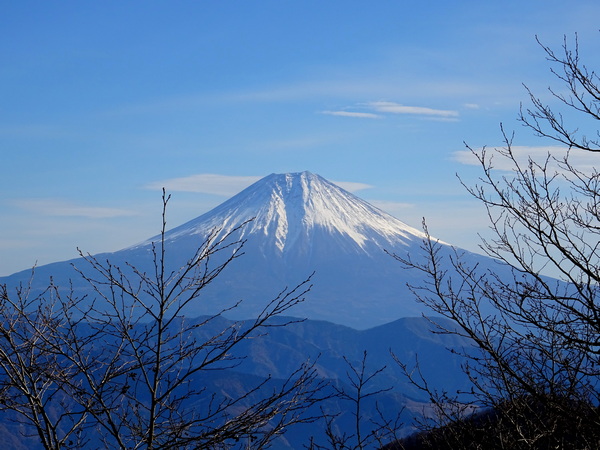 . . . where, yep, you'll see Mt. Fuji. In the blue.
Or the blue. With Mt. Fuji in it.
Then on up the ridge, up to the top of Mt. Hakkorei, about an hour from Fujimidai.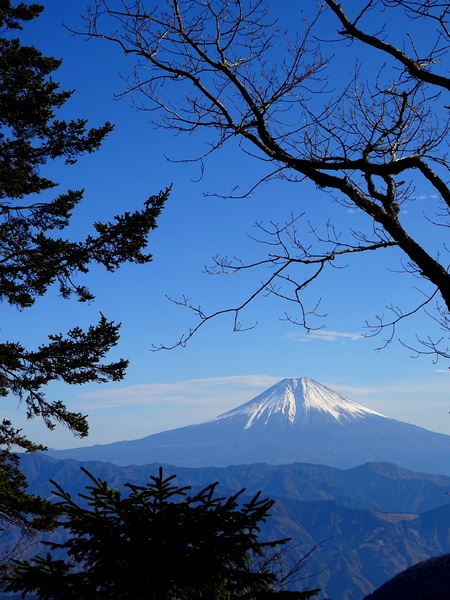 In the leafless season, Fuji is always there on your right shoulder . . .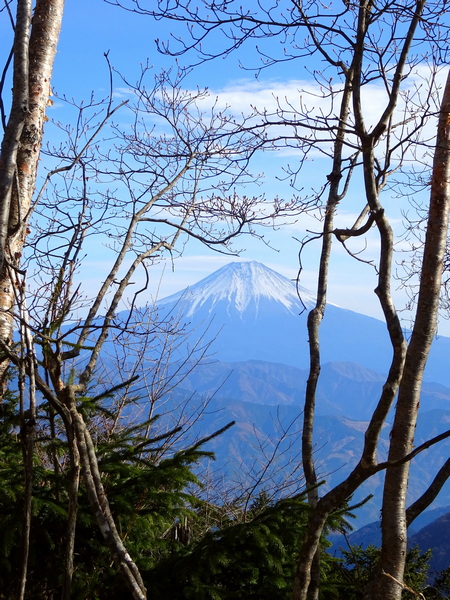 . . . there, through the trees.
And over your left shoulder . . . oh, my! Look! Through the blue . . .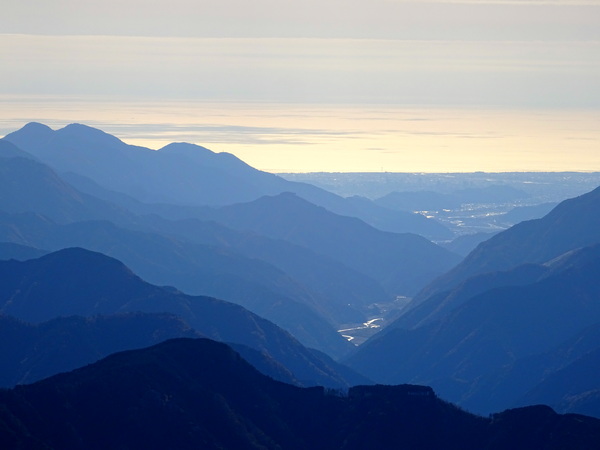 . . . there, at the end of the winding Abe River, some 50 km away, the rosy Suruga Bay.
This brings a pretty good smile to your face, so maybe it is the blue.
The blue—and the clarity that seems to live in the blue.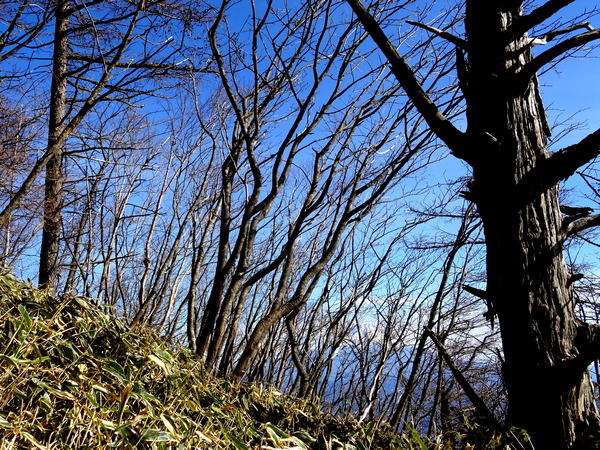 On up you go, chasing the blue (and there's Fuji, too, between the trees, if you look close) . . .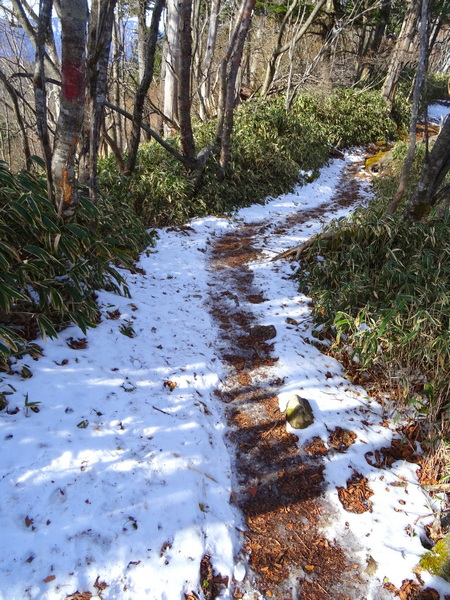 . . . and then we're in the snow. No need for clampons—but it's below freezing, and a bit icy here and there.
Remember, as lovely as the blue is, you only need a patch of ice the size of a coffee-cup saucer to fall and break your neck—well, more likely, your ankle or your hip. Let's avoid that, okay?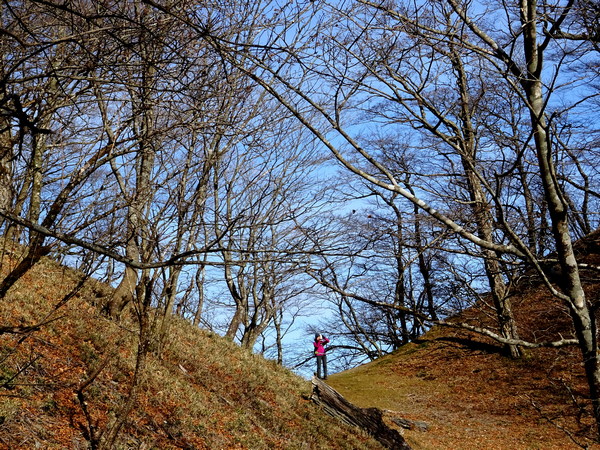 Can't see all that much at the summit—and it's a cold day—so let's keep moving. Back to Fujimidai, down another ten minutes, then a sharp left, to cut across to the Abe Pass.
Along the way, you'll come to these two ridges meeting up, and you can look out to the ocean if you like . . .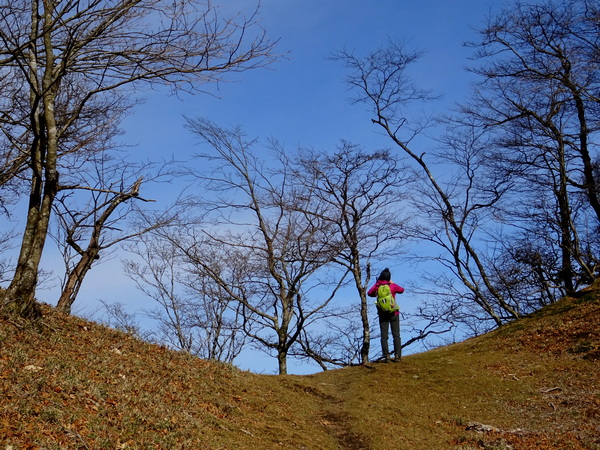 . . . or out into landlocked "central" Japan's Yamanashi Prefecture.
Or you can just look out into the blue. Can't see Mt. Fuji from here, so yeah, there might be something to the appeal of this blue.
What do you know of this blue sky? Why do most of us love it so much?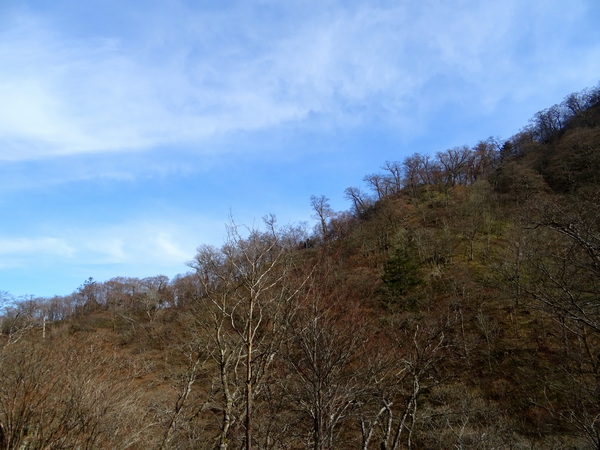 As you get closer to the Abe Pass, you find yourself face to face with the Bara-no-dan ridge. When you get up on that ridge, you'll have another good view of our friend Fuji.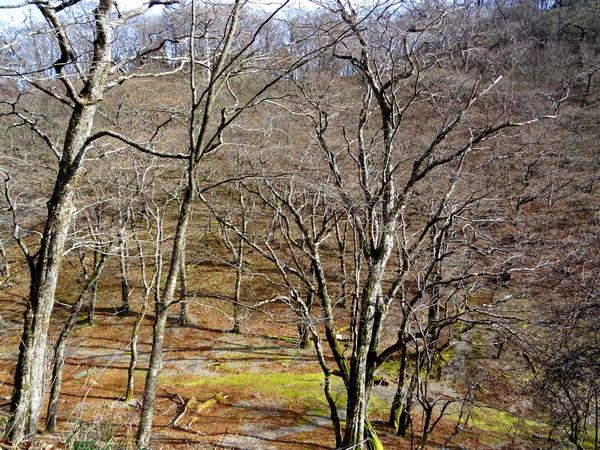 Here we are descending down to the Abe Pass. You can make out the top of the ridge that leads up to Bara-no-dan. From the top of Hakkorei to here, we've walked about an hour and thirty minutes.
Up to the ridge from the pass is a fairly steep five or ten minutes. But from there, well, you look out and realize there's just you,  your friend Fuji, and all that blue. It's a good time to close your eyes . . .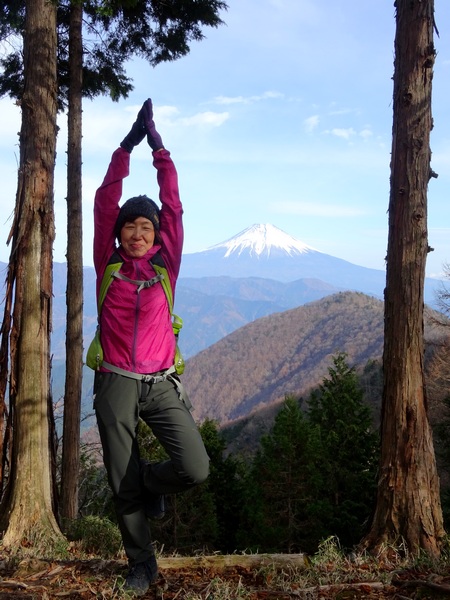 . . . and find a balanced view of things.
Thirty minutes later, you've climbed along the ridge to Bara-no-dan.
Yep, the blue is still with you. Amazing. Count your blessings.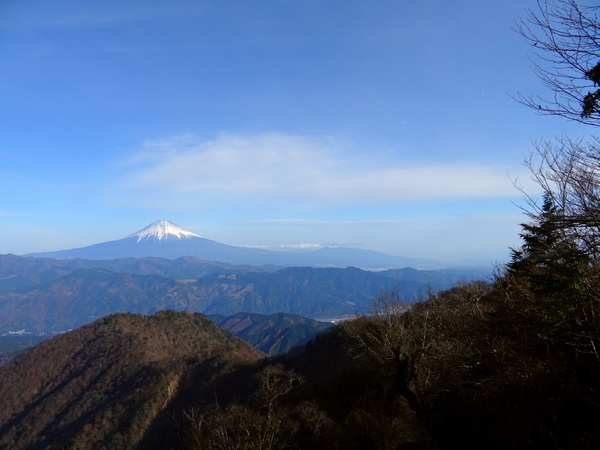 Then it's back to the Abe Pass, down along the Sakasa River valley, and back to the parking lot. Maybe five and a half hours in all.
Five and a half hours. I'm trying to figure out our milage. How much blue we got for the minute. But first, you know you've got to figure out how much blue you go.
How much blue did we get?