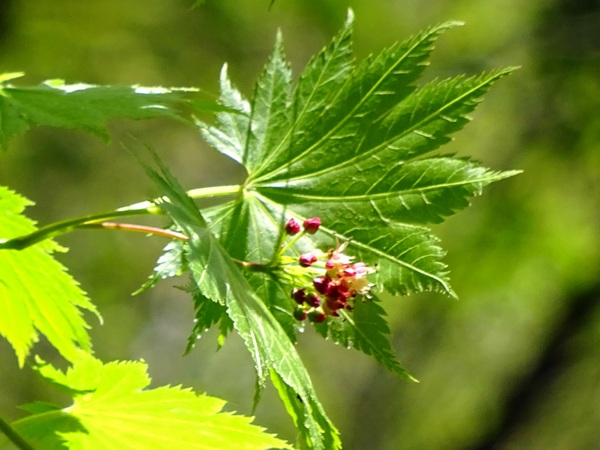 May 17th. In town, it's the season for local farmers to plow up and flood rice fields. The ducks are happy.
It's still spring, but with the rice planting, you can feel the rainy season and the sultry days not so far off. So what to do?
Why not drive to Umegashima and climb Yanbushi? Re-live those sunlight-on-new-leaves early, early spring days. You know, that new burst of warmth that's a change from the cold—a warmth that's both warm and cool.
Everything is bright and light—light as in "not heavy or hazy."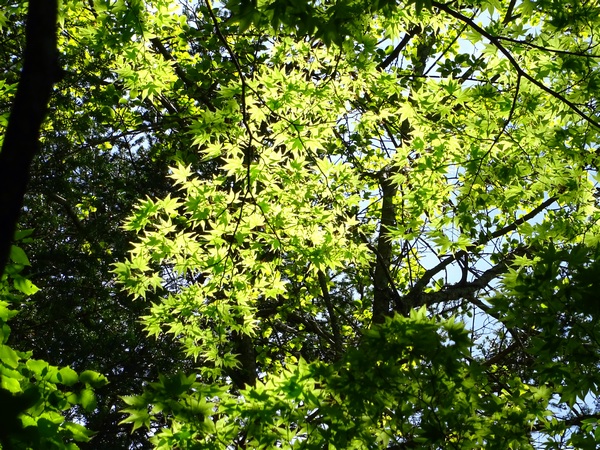 Light. That's the way you feel as you walk along the river, up toward the Yomogi Pass. The light that flickers through the leaves makes you feel light.
Man, that new green—that blue sky.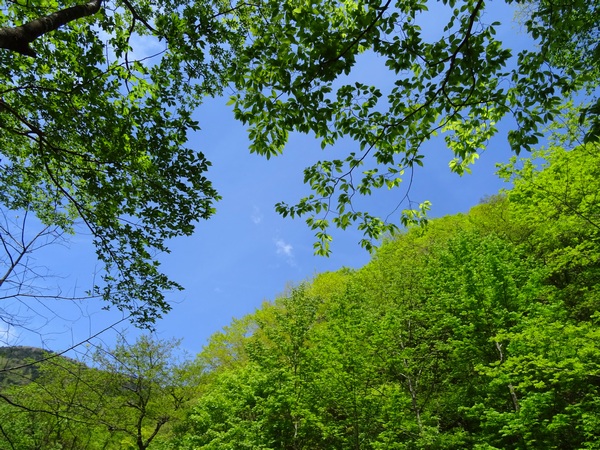 I read the other day about cedapods being able to recognize color through their skin. Makes perfect sense to me. Close your eyes and feel these fresh mountain colors on your skin.
Okay. The bare bones. Drive to Umegashima. Turn left at Shinden (新田). Follow the river for a couple of km, the last one along the bumpy gravelly road. Park. Then walk. Up. First up the river, until it ends, and then, from the Yomogi Pass, along the trail with the big views.
For us: Trailhead (9:05), Big Rock (9:45). You will not miss Big Rock. Notice the sticks along its base. They average about three feet in length. That'll give you some idea as to the scale of the rock. But when you see Big Rock for yourself, you'll know how big it is, sticks or no sticks.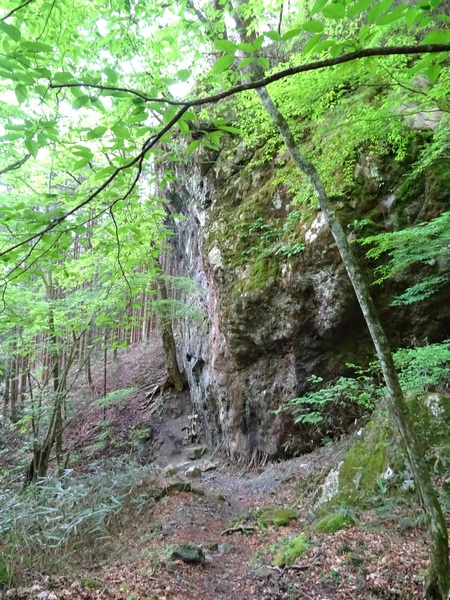 But what are those sticks doing down there, leaning up against Big Rock as they are? Are those walking sticks that you're free to take? No, they are not. They are supporting sticks. They are holding up the rock. They are keeping it from crashing down on your head.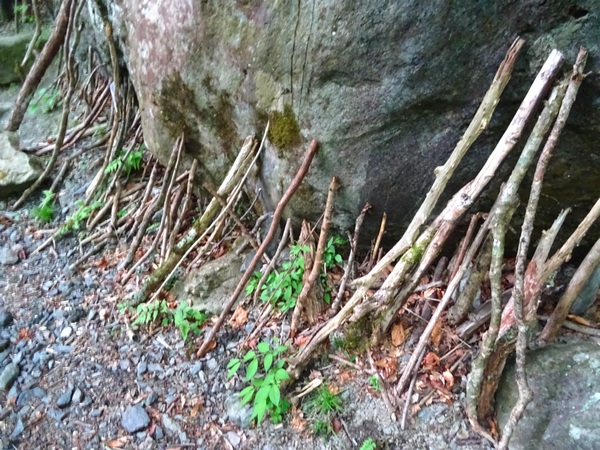 Skeptical?
I don't recommend skepticism on a day like this. But if you really can't help it, well, at least be aware that quite a few people seem convinced that propping a stick against the rock is a good idea. We are, too. So humor us. Doesn't matter how big the stick you prop up against the rock is. Could be a mere five or six centimeters—if you feel lifting a bigger one is too big a burden. Actually, I've heard some people say that the smaller the stick you lean up against the rock, the deeper your appreciation for the joint effort is.
Found your stick? Propped it? Okay, on we go.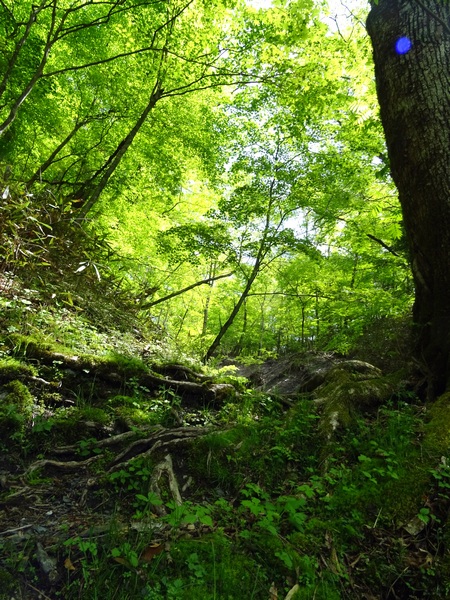 Up, up, up, through light and light green and lightness, all the way to the pass.
Yomogi Pass: 10:35. Leave Yomogi Pass: 10:45.
Last summer, when I climbed Yanbushi, it was all misty, and there was not much to see but a zillion different mushrooms growing all around the edges of the trail. This day a mushroom was nowhere in sight.
This day was a day to enjoy all the dainty flowers lightheartedly frolicking among the light and leaves and light air.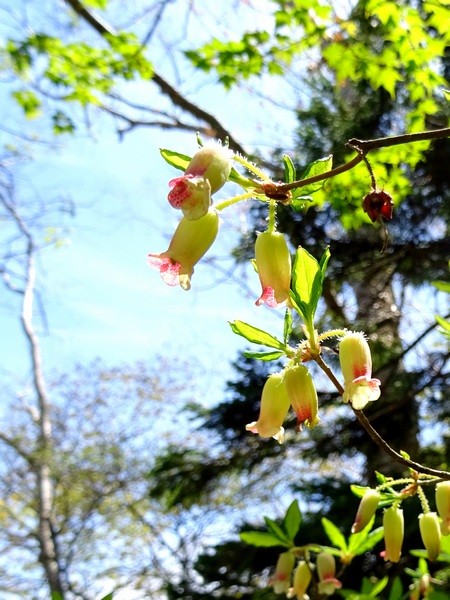 Playing like kids in a park.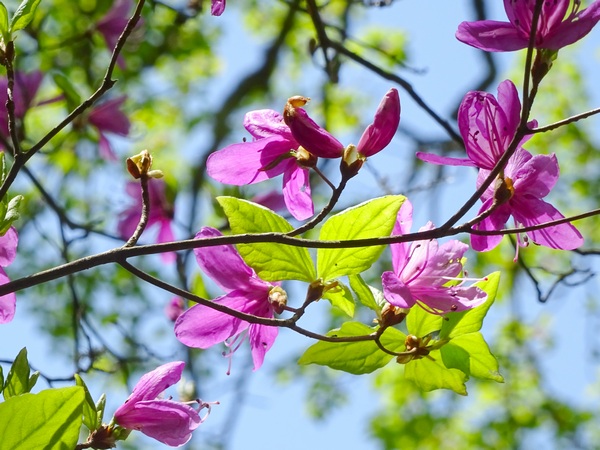 Oblivious to the years that have been and the years to come.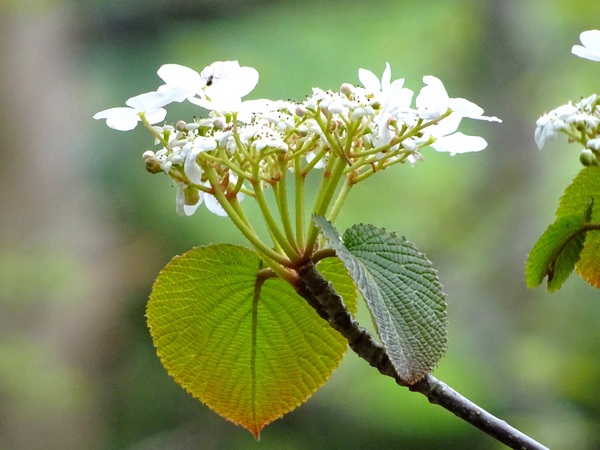 Or sometimes, like friends a bit older, out for a mid-morning bask and a chat.
I heard one white petal ask, "So what are we doing up here? Why have we come out today?"
And heard another reply, . . . "What a question! A day like today is so refreshing! This clean, clear air is just the greatest thing there is. Out here like this, I just get to feeling so relaxed and comfortable that I feel like I can talk with you and everyone else about everything. And being out and about and face to face with the sun, well, it's really good for the old metabolism!"
She was speaking the language of flower petals, of course, but I think I've managed to translate fairly accurately.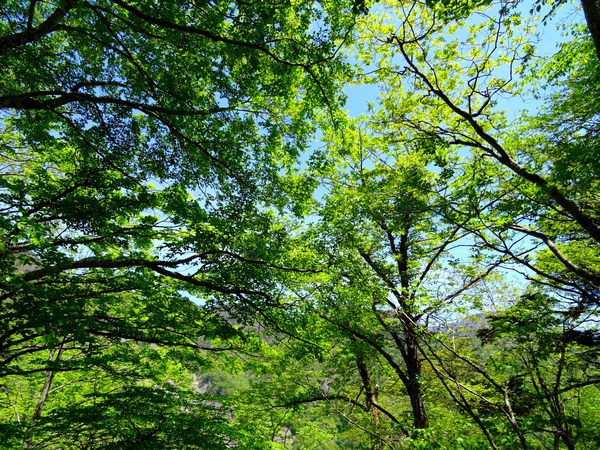 Then on up you go.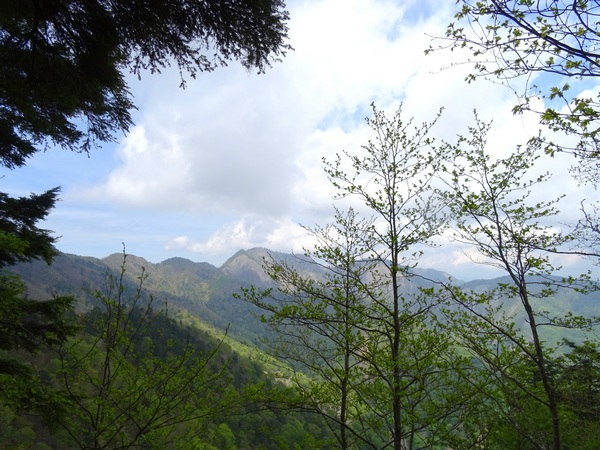 Up, up, up.
And then . . .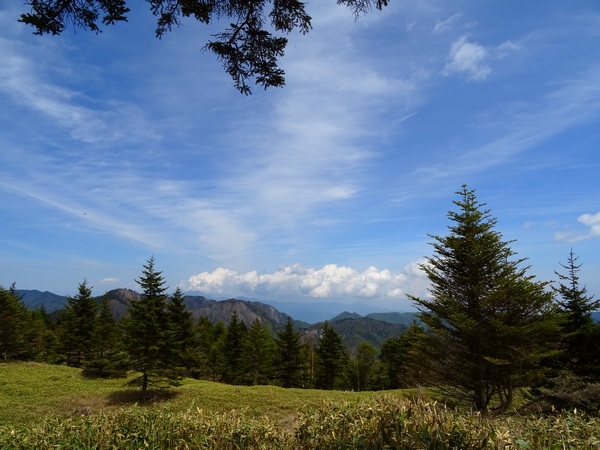 . . . there you are.
The peak of Yanbushi: 12:20.
Yes, yes. The clouds are rolling in. The view down is going to be different.
It always is.